September 1 2019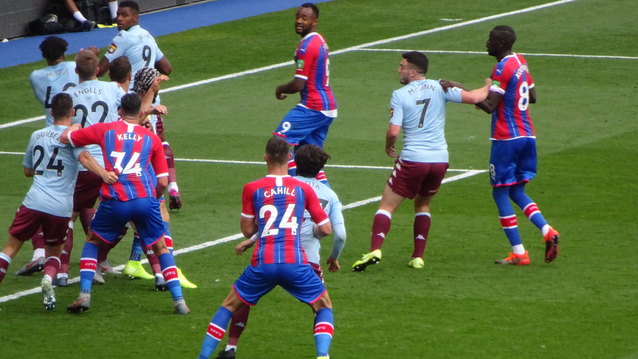 Jamesey made his way through the mass Brummy invasion of Fort Neef to watch an excellent match capped by a 1-0 victory.
"Of course there's controversy. I'm very dissatisfied, really, that such a good performance where we really took the game to them and camped in their half has been reduced to whether the final decision was right or wrong."
To kick off this report, the above quote from Palace boss, Roy Hodgson, neatly sums up the entire matter and this writer totally agrees with him, even allowing for my obvious pro-Palace bias.
The Villa match (Aug 31) came hot on the heels of a magnificent and memorable 2-1 win at Old Trafford followed by a dismal Selhurst defeat on penalties from a 4th division team in a cup which has something to do with soft drinks (I think).
Well, we do like to keep a sense of balance in SE25.
Mr Hodgson set out a similar-shaped side to the one which won in Manchester and, once more, Jordan Ayew played the lone striker role to great effect.
Surely Jordan has become almost indispensable now, especially after he coolly curled a lovely ball into the back of Tom Heaton's net in the 73rd minute.
The Eagles turned in one of the most satisfying home performances for many a moon. The whole team looked sharp and confident and Gary Cahill, always tough and inspirational, was another useful addition to the side.
Admittedly only one attempt hit the back of the net but the number of shots on goal, compared with the visitors, demonstrated Palace's monopoly of the match. The goals still aren't forthcoming but least lots of chances are being created.
One spell at the end of the first period was quite phenomenal — corner after corner came from the home side. Surely a goal would come from one of them? But unfortunately the ball flew and pinged everywhere except between the posts.
Wilfried Zaha has looked much more like his old self again and perhaps he has accepted Steve Parish's guarantees that he will be given his big move in the January window.
It would be greatly helpful if he at least plays his heart out until then. At one point it was good to see him grin when it took three Villa players to stop him with the inevitable foul.
As far as Villa's disallowed "goal" in the last minute of time added on, it was the decision of referee, Kevin Friend.
That was good enough for this supporter.
Over the years, Palace have been at the wrong end of so many marginal decisions, one learns to be philosophical. It's a shame some of the more hot-headed Villa supporters couldn't be.
Watching the pundits blathering on about the outrageous injustice on MOTD made me feel quite nauseous. I have rarely heard such a load of tosh as those jokers came out with.
As I write this, we are 4th in the Stacksodosh League. The table counts for Sweet Felicity Atkins at this stage of the season but isn't it lovely just to read it?
---
Email Jamesey with your comments to jevans3704@aol.com
In Depth Jamesey's Veteran View Index