September 29 2019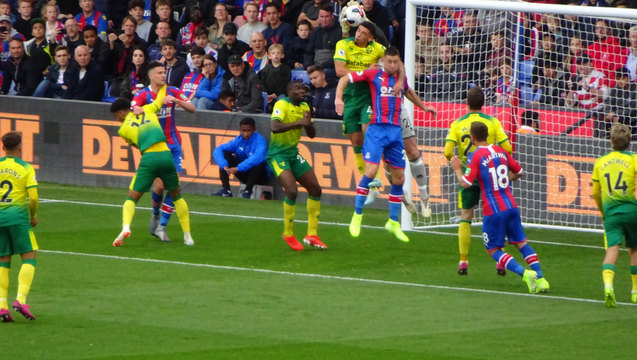 Norwich City visited Selhurst and in a gritty performance, the Eagles turned in a 2-0 victory. Jamesey reports.
Without bothering to check back, Palace seem to be bucking the usual trend of early struggling in the current season. Hope we're not just postponing the struggles for later instead!
This win against the Canaries meant two victories and one draw in the three home games so far and, as I write, leave CPFC in a comfortable 9th place in the Stacksomoulah League.
However with respect to a skilful and resourceful team like Norwich, there will be many more challenging hurdles to surmount as the season goes on.
This supporter's concern about our central defence and the absence of James Tomkins and Mamadou Sakho have been somewhat assuaged by creditable performances from Joel Ward and, in this game, Martin Kelly.
With a massive contribution from Gary Cahill, they largely kept Canaries marauders at bay, despite the occasional danger from on-form Finnish striker Teemu Pukki.
The hosts kicked off the match with all guns blazing and within the opening minutes, Wilfried Zaha signalled his serious return to business with a breathtaking run and shot that narrowly missed the target.
To red-and-blue delight, the ever-dogged James McArthur was brought down in the visitors' box after 20 minutes and won a penalty with no real protests from the Yellows.
Who else but the Serbian penalty professor, Luka Milivojevic would put it away in what is becoming almost routine fashion (hope I am not tempting providence here).
There was a worrying wobble in the last 10 minutes or so of the first period when Norwich demonstrated how well they can play when they really get stuck in.
Attack after attack hit the Holmesdale end with Vicente Guaita once more proving what a valuable addition he is. The keeper didn't really have that much to do but when he did, he did it excellently.
The Eagles settled down in the second half and really showed their mettle and it was frustrating that they seemed unable to find a second goal to make the home support feel more comfortable.
Jordan Ayew didn't really get into the game on this occasion and Christian Benteke wasn't even used from the bench. Has Roy Hodgson finally given up hope that the striker will ever regain some sort of form?
Is he even a "sellable" item any more? It's easy for observers like yours truly to talk but would it not be better to try and move him on if possible. His sky-high wage bill and place on the subs' bench could surely be put to better use?
Andros Townsend came on for Cheikhou Kouyate in the 70th minute and ultimately produced a goal from nowhere in injury time. It wasn't really from nowhere because the skill and speed of Zaha created the opportunity which Andros rifled into the corner of the Norwich net.
The Old Firm had done it again and wrapped up the win nicely with a two-goal margin.
At times it was not pretty to watch but who's complaining about a 2-0 victory? Not this supporter for sure.
---
Email Jamesey with your comments to jevans3704@aol.com
In Depth Jamesey's Veteran View Index