October 18 2019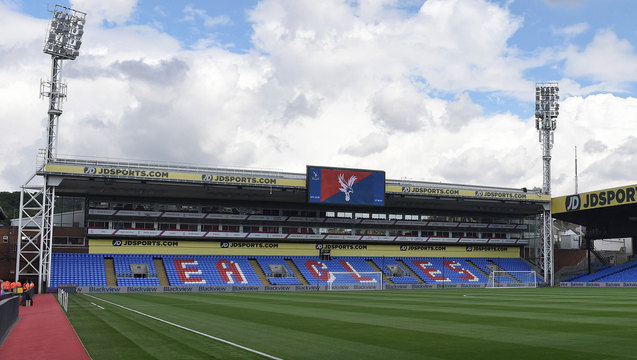 Itís a concept as old as the sport itself: if you donít score goals, you canít win football matches, writes Lucy Jones.
We are strong defensively at Palace, and so that gives us a chance of not losing games, but if we are going to kick on and establish ourselves as a potential top-half side we need to start scoring more often.
Last season, we were heavily reliant on the brilliance of Luka Milivojevic from set pieces, with 10 of our 51 goal tally coming from the penalty spot (nearly 20%) and eight more coming from corners and free kicks (16%).
When you think about it, 33 goals scored from open play in 38 games does not read that well at all.
Already, that theme has continued into 2019/20 too, our haul of two open play goals so far is the lowest in the Premier League.
If we want to build a sustainable way to goal, we need to improve dramatically when we have the ball at our feet. Thatís the only way we will be able to shake off any relegation fears, because as the latest Premier League outright football betting markets confirm we are more likely to be battling the drop than fighting it out for a top-ten finish.
So how can we improve our goal threat? Hereís three possible solutions.
#1 Ė Keep the Ball Better
If you havenít got the ball, you canít score. So, it doesnít make sense for us to give up possession so willingly.
So far this term our average possession per game is 44.9%; only four sides have enjoyed less time on the ball.
The counter attacking style can work if you have quick runners in behind, but with Wilfried Zaha deployed in wide areas and Jordan Ayew not a natural number nine, thatís not a tactic that comes naturally to the Eagles.
One of the ways we can improve our ball retention is to get bodies around Ayew quicker, in order to prevent him from becoming isolated.
There might be a case to switch Zaha to the left and bring in Andros Townsend on the right, as their natural inclination will be sit narrower on their Ďwrongí flanks.
And to compliment that, we need one of the central midfielders to bomb on and take a risk: itís a role James McArthur could fulfil, or a chance could be taken on Max Meyer Ė a player who has, at times, shown glimpses of real quality.
#2 Ė Play Higher Up the Pitch
The closer you get the ball to the oppositionís goal, the higher your chances of scoring.
One of the main problems is that weíre not spending enough time in the final third of the pitch Ė just 27% of games, all told, with 31% spent defending in our own third; only Arsenal, Aston Villa and Norwich have had to defend their own territory for longer.
The reasons for that are obvious: weíre playing too many medium-length and long balls forward, and Ayew is not a natural frontman so does not have the instinct to hold up the ball.
Perhaps the case for a recall for Christian Benteke. Yes, the big Belgian is not prolific by any means, but he does bring plenty of other attributes to the party; not least his ability to hold up the ball and make it stick.
That will enable us to get bodies forward and play higher up the pitch Ė crucial if we are to enhance our goalscoring potential.
#3 Ė Unleash the X Factor
Ask any Cardiff City supporter and they will tell you the same thing: Victor Camarasa is absolutely magic.
The on-loan midfielder hasnít been given a chance to shine at Selhurst Park yet, but hopefully when heís at full fitness Roy Hodgson will give him a go in the starting eleven.
He scored five goals and assisted four more in the Bluebirdsí doomed attempt to avoid relegation, but more than that the Spaniard averaged 1.6 key passes per game Ė more than the likes of Roberto Firmino, Leroy Sane and Son Heung-Min Ė and successfully completed 1.1 dribbles per 90 minutes. Thatís more than Christian Eriksen, Pierre-Emerick Aubameyang and David Silva.
So, we might just have a player with a bit of X-factor about him Ė letís hope the manager is singing from the same hymn sheet.
Thatís just three ways in which we can become more of an attacking force, and hopefully remove any relegation fears for the rest of the campaign.