November 4 2019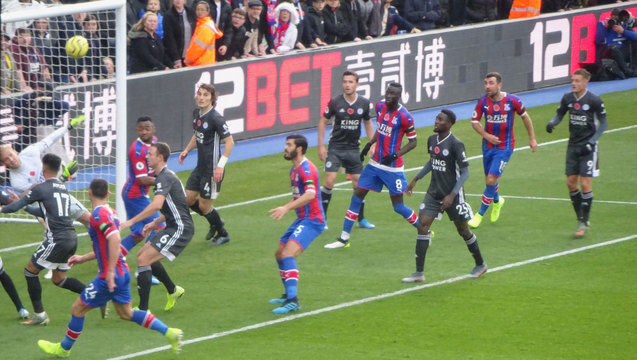 Gloomy Sunday… a tricky fixture ended in the second back-to-back home 2-0 defeat for the Eagles. Jamesey found little cheer at Selhurst.
The mood was sombre at Selhurst.
Before the match against Leicester City (Nov 3), Remembrance was marked with military honours and the last post was sounded before a minute's silence, impeccably observed by over 25,000 football supporters.
The mood at the end of the game was equally sombre for Palace fans who had seen their team technically and tactically outfought by a resurgent Foxes outfit.
Perhaps the home supporters who unwisely tried to taunt Jamie Vardy over some trivial social media matter now realise that a late goal which sealed the win, followed by some "eagle mockery"was the striker's answer.
We all knew that a tough sequence of five matches would start in mid-October. The only glimmer of light after three of those games was an extremely fortunate away draw against Arsenal. Two back-to-back home thumpings were the other outcomes and Chelsea and Liverpool are yet to come. Oh dear…
Although Wayne Hennessey had performed well in his absence it was reassuring to have Vicente Guaita back between the sticks and he needed to show his class in this match.
Both sides had their moments in the first half but the Eagles' usual lack of attacking penetration was evident. After a promising spell, Jordan Ayew seems to have succumbed to the current Palace striker curse and was replaced by Christian Benteke late in the proceedings to no effect as is usual.
The lack of depth in the squad is also a worry. With the valuable contributions of Andros Townsend unavailable, with respect to Jeffrey Schlupp, he is unpredictable and not really an adequate substitute.
WILFRIED ZAHA had his moments but too few to cause the Foxes defenders many problems. Wilf is still not looking his best and isn't doing his January exit hopes much good.
Leicester centre half Caglar Soyuncu broke the deadlock in the 57th minute with a cracking header which flew past Guaita. The Turkish defender has certainly repaid his manager's faith in playing him in the place of the departed Harry Maguire.
The Foxes never really looked in danger after that and Palace's toothless attacking grew more and more forlorn until Vardy's strike in the 88th minute wrapped up the win.
As I write, the Eagles are in a more realistic 9th place in the Loadsadosh league table.
After Palace's record run in the elite division, it will be the inability to actually score goals that could see the trap door opening. Not a pleasant thought at all.
---
Email Jamesey with your comments to jevans3704@aol.com
In Depth Jamesey's Veteran View Index