November 21 2019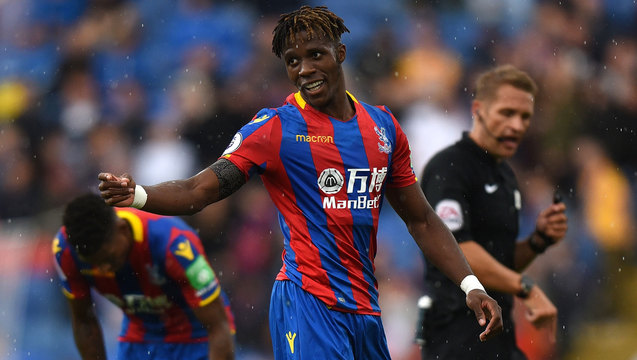 As another transfer period approaches, there are growing signs that Crystal Palace star WILFRIED ZAHA is becoming the target of intense transfer speculation, writes Ben Blake.
The 27-year old has already been linked with many larger clubs, and losing ZAHA would be a crippling blow to Palace's aspirations.
The London club are currently in the middle of the Premier League table after picking up just one point from their past four games. They will play their next match this Saturday at home to leaders Liverpool.
Many online sports betting sites in the UK have already started lining up odds for Palace's coming games and their final finish. The chances of the Eagles reaching their record points total will probably depend on whether the club can hang on to ZAHA until the end of the season.
Manchester United set to swoop on ZAHA
Last summer's transfer period saw no end of interest from massive clubs in signing ZAHA. The Ivory Coast international was the outstanding player from Palace's last campaign with his lightning pace and endless creativity causing problems teams.
But in the end, Roy Hodgson managed to keep hold of the forward for a few more months at least. However, it looks like Manchester United are now leading the race to try and sign the forward. ZAHA previously played for United, but swiftly fell out of favour before he found a much more enjoyable home at Selhurst Park.
The United attack has looked fairly blunt recently, and the sight of ZAHA playing alongside the likes of Marcus Rashford and Anthony Martial would do a great job in reviving Manchester United's flagging fortunes.
At the moment, it looks like WILFRIED-ZAHA-crystal-palace-11072745/" target="_blank">United are willing to spend £70m on ZAHA, and it's an offer that Palace would find hard to turn down. But as the club are currently experiencing something of a goal drought with just 10 goals in 12 Premier League games, they might be looking for a higher asking price for the striker.
Could Arsenal sign ZAHA?
Arsenal were one of the major clubs who showed plenty of interest in ZAHA over the summer. In the end, Unai Emery must have thought that the asking price for the striker was too high and Arsenal lost interest.
However, the signs are that ZAHA is one of the WILFRIED-ZAHA-Soyuncu" target="_blank">top-three potential signings Arsenal could make this January. With recent record signing Nicolas Pepe failing to ignite the Gunners' attack, it seems that ZAHA could be the missing ingredient to guide Arsenal to glory.
Despite this, it's clear that Arsenal might do better in investing in their notoriously leaky defence rather than splashing out on another front man. With the likes of Pierre Emerick Aubameyang and Alexandre Lacazette teaming up to create some wonderful goals, it could be hard to see where ZAHA could fit in.
Will ZAHA be part of Chelsea's winter spending spree?
While Chelsea is proving the doubters wrong with the sheer talent of their young stars, it seems as though they have also made ZAHA a part of their festive shopping list. The striker is thought to be the target of a £150m spending spree that Frank Lampard will undertake once Chelsea is finally free of their transfer ban.
In a way, this makes perfect sense as a creative attacker like ZAHA would work perfectly alongside an out-and-out forward like Tammy Abraham. Palace's recent game against Chelsea showed us precisely what the team lacks in terms of goalscoring abilities, and if ZAHA leaves, then Selhurst Park would end up being a much sorrier place.