February 17 2023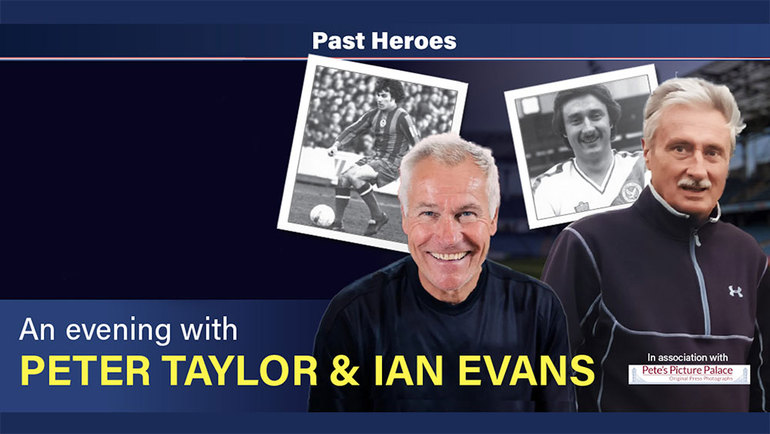 Join Crystal Palace legends Peter Taylor and Ian Evans for a not-be-missed evening of entertainment.
The event will take place at the Croham Hurst Golf Club, South Croydon, on Friday, March 10, 2023. It will initially consist of Peter and Ian sharing stories about their lives and careers with Palace and beyond, as well as no doubt their views on the current Palace team and their prospects.
Taylor joined Palace from Southend when then manager Malcolm Allison signed him in October 1973 for £110,000. Palace were relegated at the end of that season, but Peter was named Player of the Year and remained at the club for two further seasons, becoming player of the year again in 1976.
In the 1975–76 season, Third Division Palace reached the FA Cup semi-final, with Peter scoring two goals in the 5th round in a 3–2 away win at Chelsea. He also made four appearances for the full England team, scoring twice, becoming one of the very few players to play for England whilst at a club outside the top two divisions.
The FA Cup run was not followed by promotion however, and at the end of the season Allison resigned and was replaced by Terry Venables, who allowed Peter to leave for Spurs in September 1976 for a fee of £400,000. Peter returned to the club in 2006 as manager but it wasn't a successful stay and he left after 15 months at the helm.
Evans joined Palace from Queens Park Rangers in September 1974, along with Venables, in an exchange deal for the brilliant but fading Don Rogers, and he quickly became a firm favourite with the fans, even scoring a hat-trick in a game against Colchester.
In October 1977 playing against Fulham, Ian sustained a really bad injury in a tackle by George Best which kept him out for over two years, and sadly he never played for the club again, moving to Barnsley in 1979.
In his time at Palace he played 163 games, scoring 16 goals and was capped 13 times for Wales. Ian re-joined Palace in 1984 as No.2 to Steve Coppell and played a big part in Palace's resurrection at the end of the decade.
Tickets are available from £27 at pastheroes.com or directly here.