February 5 2002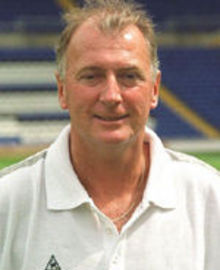 Trevor Francis's signings have been pretty good so far, so it bodes well for Ade Akinbiyi... writes Sam Hesketh.
Many Palace fans have been critical of the signing of Ade Akinbiyi, saying his poor record for Leicester with only three goals this season, wouldn't help Palace at all - except for taking money from our bank account.
However, looking at Trevor Francis's buys since taking over as Eagles manager, it could be argued his eye for players is not as bad as people make out! When Steve Bruce left and Francis took over, it was still our defence that was in need of a little work (Okay, a lot!!).
And instead of going for the player that Bruce wanted, Steve Vickers, a 35 year old who would set us back £500,000, Francis instead brought in three players for just over a million pounds and they have all shown they are more than capable of performing.
Kit Symons came in from Fulham for £400,000 and even though some people argued that it was slightly suspect that Fulham let him go so easily, I would argue that his experience at this level will be very valuable to our cause.
His time at Fulham and Manchester City will have served him well, and at 31, he still has a few years left in him and has shown that his partnership alongside Tony Popovic is going to move from strength to strength.
Danny Granville and Curtis Fleming came in on the same day. Granville for £500,000, a bargain buy for the former Chelsea and Leeds player and a reported fee of just over £100,000 for Fleming.
Fleming has settled in quicker in his position at right back, with confident and calming displays, proving that Francis's faith in his ability was no fluke and Granville has performed admirably, with the exception of his red card offence against Coventry.
So, with these three players showing their worth under Francis, his record of signing players for the Eagles is going great guns right now. Akinbiyi will cost considerably more - £2.2m - but he shouldn't be panned until he has played for us.
His record at Bristol City and Wolves were extremely good, and his powerful physique and combative play could be just what we need at this level in our bid to move to the top flight.
If we are to go up this year, his record at Leicester shouldn't be considered, as his current team are lacking in any midfield after the sales of Jones and Lennon, and have no morale, whereas Palace have a more creative aspect to their game and are brimming with confidence.
So, let's get behind Ade. If he proves to be as good a signing as Symons, Granville and Fleming, he will do really well for us and who knows, the £2.2m we paid could be a bargain in a few years!