February 18 2002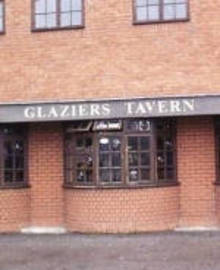 Sam Hesketh gives us the lowdown on tonight's fans' forum, which featured new signing Ade Akinbiyi and reserve boss Dave Swindlehurst.
In the shortest fans forum since its inception at the Glaziers, Akinbiyi and Swindlehurst entertained us tonight.
Both came on stage to warm applause and Ade kicked the evening off by saying how pleased he was to have joined the Palace and that it was quite a surprise to have joined the club as the move came about pretty quickly.
But he was glad to be back in London, his home town, and he was living with his mum!
He said that the first thing he did when he joined was to ask Clinton about his future and Clint said that he was going to stay and achieve things with us and that he had no intention of leaving.
Ade said that the form of Dougie and Clinton meant that he knew he wouldn't be starting, which was why he was so surprised to start against Wolves.
He said that the 4-3-3 formation was one he had never played under before but that he was confused by it and was used to playing a 4-4-2 but Trevor Francis seems confident the 4-3-3 will work so he will have to keep plugging away at it.
He promised that he would give 100% for the club and that we shouldn't be surprised to see him defending corners and tracking back because he feels it is important to help out the midfield as much as possible.
He said that he did do well at Wolves and it took him five games to score for them, so we should be patient and give him time and the results will come.
Swindlehurst spoke mainly about how hard managing a reserve team was because you have to juggle the young players coming through and the older players who aren't playing first team.
He said that throwing toys out of the pram wasn't unusual but he liked the challenge of getting their attitude back up to scratch.
He also said that he thought the idea of sending the likes of Andrew Martin and Jon Boardman to lower league or Conference clubs helped them gain valuable experience of rough and tumble football.
He said that as a forward player, he hated playing in a 4-3-3 formation because it meant you couldn't really get behind defences as you all tend to make the same runs and no-one was ever really sure of where they were supposed to be situated.
He also said that he does still do a bit of scouting for the club and that Morgan, the Barnsley defender, would cause us problems at set pieces in next week's match.
Finally, Marco, myself and ChrisH went to get Ade's autograph, he recognised us from the Soccer AM show, which made sure we all went home happy!