February 20 2002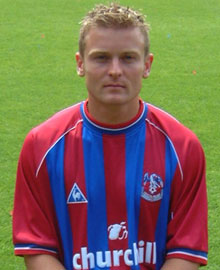 Simon Rodger has had his testimonal match confirmed for July 31 against Tottenham at Selhurst Park.
Rodger, who is sponsored by The Holmesdale Online, has been at the club since 1990 and cost Palace only £1,000 from Bognor Regis.
During this time, he has played almost 300 league and cup appearances in the red and blue and scored 12 goals.
Last season, Palace's opponents were rumoured to be West Ham, but Palace and Rodger's agent were unable to sort out the fixture in time.
The kick off time for the game will be 7.45pm and everyone should go along to support a true Palace hero.