March 4 2002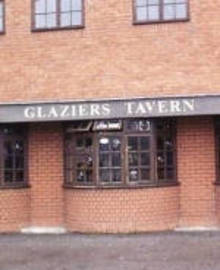 A change to the line up at tonight's fans' forum meant another of Palace's international players, Andrejs Rubins, turned up in the hotseat in place of the injured Tony Popovic to join Kit Symons, writes Sam Hesketh...
Symons was quizzed first by Terry Byfield, and started off by speaking about his time at Portsmouth and said that his time at Man City was a real rollercoaster as his first season was the best of his career even though it ended in relegation for the club.
Then he was made captain and City went into free-fall to Division Two. Then he moved to Fulham at the start of the Keegan revolution and he said it was great to be on the crest of a wave and though the club wasn't a big one, Keegan sorted out both the playing side and commercial side whilst at the club.
Talking of Tigana, he said he was adamant that they stuck to a 4-4-2, no matter who Fulham played and that he was reluctant to let Kit go even though Symons wanted to have first-team football.
He said once Palace came in he was raring to sign as we were a good club and put a good offer on the table despite interest from other clubs.
Kit, short for Christopher, which only his mum and maths teacher call him, said that his injury was the worst of his career (great time to get it mate!) and said that he was told he'd be out for six weeks.
Usually he recovers faster than expected he told us, but he said this injury was quite complex and he went into detail about what the injury was.
The only parts of which made sense to anyone was that he had an MRI and an ultrasound to discover he had a sack of liquid in his groin area (no, not his bladder!), and that he was sent to the Arsenal complex for further tests. Apparently, it's an injury ballet dancers get a lot!!
He was asked if he preferred playing in a back four or a back three and answered that he had played in both, a three at Pompey and a four at Man City and Fulham and he wasn't too bothered which one he played in as he could adapt to either.
He also confirmed that Popovic had broken down in training on Friday when he stretched for a ball towards the end of the session and felt his groin injury twinge and so had tests today which will keep him out further.
He agreed that our inconsistency is a problem but that the teams around us are suffering from it too, however he said if we want to get into the play offs we are going to have to sort the problem out very soon.
Byfield then spoke to Rubins, who was obviously very nervous and it didn't help that Byfield spoke faster to Andrejs than he did to Kit and used long words half of us couldn't understand let alone a Latvian!
The basics of this part of the forum were Rubins found the English game harder than in Latvia where the football is more technical. He said he loves London and wants to get back into the team. His injury should keep him out for another two weeks.