March 28 2002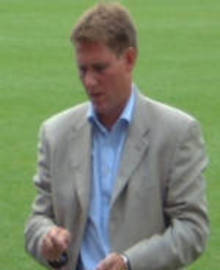 Simon Jordan said Palace fans have a right to give Steve Bruce a hard time when Birmingham come to Selhurst Park on Easter Monday.
Eagles fans have still not forgiven Bruce for walking out and leaving the club with Trevor Francis as his replacement.
Jordan told the Evening Standard: "The supporters will be emotional about his return and quite rightly so. I don't think Bruce has any right to expect anything other than a warm reception, but I think he can handle it.
"I do not respect what Bruce did but he does not owe me anything. He did a good job for me for a short time and unfortunately decided to ply his trade elsewhere.
"I have no problem with the people in charge at Birmingham and I am sure they will be in the boardroom on Monday.
"We have all got our businesses to run and it was not an emotional decision. The cost of it is something they will have to deal with."
Jordan has not given up hope of Palace making the play-offs.
He said: "I always thought that this game against Birmingham might be important and if we win at Norwich on Saturday then it really will be.
"We have to win four out of our last five games and have made it difficult to get into the play-offs, but we are a long way from throwing in the towel.
"Satisfaction for me will be getting into the play-offs and if we do that, this will all be forgotten.
"I don't think I will be inviting Bruce out for dinner but if our paths cross on Monday I am sure I will say hello."