April 3 2002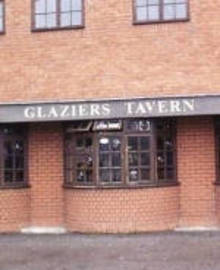 In the final fans' forum of the season, Tommy Black and Terry Bullivant took to the stage and gave us an entertaining evening of upfront Palace chat and jokes... writes Sam Hesketh
Bullivant took the microphone first and he spoke about the difference between being a first team coach, where you can get to be a lot friendlier with the players, because as manager you have to draw a line with the players so they know who is boss.
He told us that he preferred his coaching job because he wasnít a big fan of agents and press ringing him up all the time. He said he got to enjoy the game a little bit more because the pressure wasnít on him so much.
He spoke of Bruceís interest in him when he first went to Birmingham. He said Jordan and Kember had a meeting with him and told him he wasnít going to be allowed to leave and Bully said, "without sounding corny", that he really loved the club. His kids are happy here and he really had no intention of moving, because he really is settled.
He told us that Symons and Popovic shouldnít really be expected for this season, they donít want to be risked, and because the play-offs arenít an option this year (something he and Black both said a few times), they were planning for next season. He also said that Tony would play in the reserves this week, with Kit pencilled in for another game next week.
Other bits he mentioned were that we could see the inclusion of younger players. He singled out Wayne Routledge and Williams, saying they were both in with a good shout of some action.
He said the decision to release the 11 players were a collective decision and that though not everyone agreed on every player, they were happy as a group that they were doing the right thing by the players and the club as a whole, and he added that Jordan paid the players' contracts up in full, something that he didnít have to do.
Tommy was up next and his main point of the night was talking about his frustration at not getting in the first team. He said that, for a 22 year old, he wants to be playing first team football all the time, but that he is happy at Palace and he will keep plugging away and doing the best that he can to force his way into the team.
He said that it's important to have a good pre-season and show the manager and coaching staff what he is capable of. When asked by Marco about the rumours that his contract was up this year, he said that it wasnít until next summer (2003) that his contract was ending and he was happy at the Palace.
He stood up for Trevor Francis on a number of occasions, but did claim he was upset that he didnít get picked for Manchester City after he had been our man of the match against Burnley in the previous match. He said he took his frustration out on Bullivant that day, which made Bully shift a bit in his chair!!
Other small points he made were that Jules was the most skilful player at the club and that one day heíd go on to be one of the best in the country (he really should learn to cross then Tom!), and that he thought the likes of Hayden, Clint and Doug could make the Premier grade easily, and both he and Bully singled out Thomson for praise saying he was similar to Jolly.
Tommy also got to talk about his bad disciplinary record, saying that he was upset to have been red-carded against Pompey because they were harsh decisions, but that (jokingly), he had a good New Year because he was suspended at that time.
All in all it was a fantastic evening out, a lot of question being fired at the two men, both answering them competently and truthfully and the night culminated in meeting the lovely Alice the Eagle (who Lee is smitten with)!
For anyone who hasnít been to a fans' night this season, I recommend them very highly next season. There are always interesting things said and you never know, you might learn something new.