April 23 2002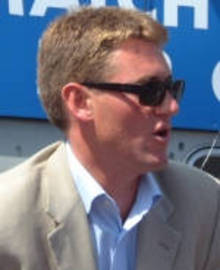 The final fans' forum of the season was held at Selhurst Park yesterday in what was arguably the largest turn out - all of whom wanted to hear what Simon Jordan had to say for himself... writes Sam Hesketh
He came out and in his favour, did put his neck on the line, something many chairmen around the league would not do.
He answered questions on many areas most of which were interesting to hear, once you actually got an answer from him, which did take a while on some occasions.
He confirmed next year's kit would be similar to Barcelonaís, with navy blue replacing the lighter blue of this seasonís kit and he wanted to put it to a vote again, like last season but missed the window of opportunity.
He added the second kit would stay the same and we would have an all black third kit.
He said he was very pleased Andrejs Rubins had got back into the team of late because he wanted to see him do well after spending a great deal of money for him.
He said the coaching staff had ruled him out saying he no longer had a career at Palace, but then they did that with Alex Kolinko at the start of the season and both came through well.
He said he wanted to buy Selhurst Park and he was getting on a lot better with Ron Noades and had no idea if Wimbledon were staying on for next season. But he thought that possibly they would and then move out the season afterwards.
He claimed to have no knowledge on the rumour that Brentford were moving in to Selhurst and he did have the option to rename the ground "The Churchill Stadium" (letís hope he doesnít use it!).
The obvious questions came out about Steve Bruce and it was quite interesting to hear what he had to say.
He denied Bruce still had a gagging order on him and Jordan himself wanted to hear what Bruce had to stay.
He said that Bruce was offered a highly-improved contract, including bonuses and a two-year extension, but Bruce delayed it and finally walked out saying Birmingham were a bigger club and gave him more opportunity.
He spoke of Trevor Francis too, and something that surprised me was that he wasn't scared of pointing out Francis' faults - saying it was hard coming in, in the middle of the season, but that Francis didn't take control.
He said Bruce left no-one in any doubt who was the number one man when he was at Palace and Francis hadn't done that.
He also said that every player at Brum loved Francis and he had them having parties singing along with Jasper Carrott (!!) something he couldn't see happening at Palace!
He said point blank that Peter Taylor wasn't coming in as manager because, though he saw him as an excellent coach, he wasn't a number one man.
His agent had rang Jordan pre-season and put his name forward for the Palace job because he knew that if he lost the first few games, heíd be axed and Jordan didnít like the defeatist attitude.
The question of Teamcard came up on a couple of occasions and he said he really did want it to work and had pitched the idea to the likes of Newcastle.
He claimed that it was hard to get 700 temporary staff to understand fully how to work it and get them to work efficiently.
Contract information came out too and it seems likely that both Jovan and Jolly will be leaving. He skipped over the question about Kirovski and said Rodger's agent hadn't been in touch with Jordan about a contract extension.
Also it was said that Dougie's contract was up next season and Hayden and Clint only had two years left on their contracts.
He said that everyone had their price and if the right offer came in for any of our players, he would seriously consider it.
He told us that he had received only one concrete bid for Clint, a £5m offer from Birmingham, who had wanted to pay in installments Ė which he point blanked refused.
He confirmed that we were highly likely to play Chelsea on August 3 at our ground and also that we would be playing an away match against Swansea.
He said Akinbiyi would be a good player for us, but that it was a mistake for Trevor to play him from the start against Wolves and break up the Freedman/Morrison partnership.
He said he was proud of having our support, and when asked about the prospect of losing around 3,000 fans due to lack of confidence in Francis, he said that he would stick to his decision. He said he has never read the BBS because some of it is insulting to him!
Overall, it was an interesting night, but Jordan did go on sometimes and did his usual "I put millions of my own money into the club", a little too much for my liking, though he did say he didnít want to be known as the "man who saved Palace".
At least we had the chance to ask him questions, which could really have blown up in his face, so of that we must be thankful.