May 2 2002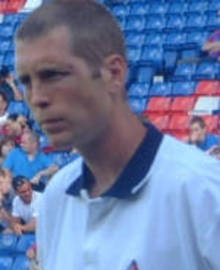 United States boss Bruce Arena has heaped praise on Gregg Berhalter as the US start preparing for the World Cup.
Trevor Francis has refused to give Berhalter a decent run in the side, despite him playing well since his move last season and despite there being a major injury crisis in defence.
But Arena said: "Gregg fits in as a centre back. I think that his best position, without a doubt. He's not a player who plays particularly well out wide. He has great qualities as a centre back.
"He's a good leader, he's a very aggressive defender, outstanding in the air and a good passer of the ball.
"Those are the qualities that Gregg brings to the backline, and certainly in May he will have opportunity to challenge for a starting position."
Berhalter will be part of the US squad which will be taking part in the Nike Road to Korea in May. Matches include Uruguay in Washington DC, Jamaica in New York and Holland in Boston.
Arean added: "Over the last couple of years he has developed quite well. I think his experience in Holland was very good for him, and he gained invaluable experience, as well, in England.
"My only concern with Gregg right now is that he has had a number of nagging injuries over the last six months that we need to get sorted out in camp. If he's healthy he is going to help us."
Arena explained why he failed to include soon-to-be-departed Jovan Kirovski in the squad. Kirovski is tipped to go to Birmingham City on a free transfer shortly.
He added: "With Jovan, where we are with this squad is that we were only going to take four pure forwards, and Landon (Donovan) can play both as a forward and a midfielder, and that in the end pushed Jovan off the squad."