May 21 2002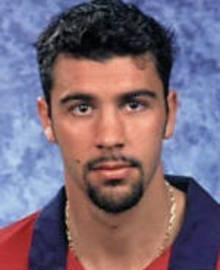 Crystal Palace were knocked out of the European Communities Trophy, losing to 2-0 to Real Betis in Seville.
Real Betis started the brighter of the two teams and scored after just eight minutes.
Straight after the restart, they hit the post as they continued to bear down on the Palace goal.
Two minutes later, they were awarded a penalty after Curtis Fleming was adjudged to have brought down a Betis player in the box. However, the poor penalty effort was easily saved by Matt Clarke in goal.
After 20 minutes, more Betis pressure forced Clarke to pull off a great save.
Five minutes later, Palace got a free-kick just outside the box, after Andrew Frampton was up-ended. But the effort was easily saved by the Betis keeper.
Palace had their best chance towards the end of the first half, with Jovan Kirovski bending a free kick around the Betis wall, but went just wide of the post.
Early in the second half, Clarke was forced to make another good save from a Betis cross.
Kirovski went close again after 53 minutes, when he shot from 20 yards, but it went just wide of the post again.
In the 62nd minute, Real Betis went two up with a strange goal. Hayden Mullins headed a corner on to the head of a Betis player who scored.
The Eagles made a series of substitutions in an effort to win the game, but at the Real Betis Stadium the home side won to go through to the semi-finals.
Palace: (3-5-2) Clarke, Fleming, Granville (Gibson 86), Kirovski, Popovic, Hopkin, Mullins, Thomson, Frampton (Borrowdale 70), Kabba (Williams 70), Black (Routledge 73).
Sub not used: Carrasso.