May 29 2002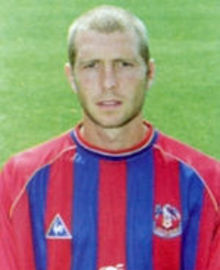 Gregg Berhalter feels his US side are well-prepared for their fourth consecutive World Cup finals.
The transfer-listed defender played in two of the USA's last three friendly games and has had a major role in qualification for the tournament.
He had Christian Vieri in his pocket in the 1-0 defeat to Italy earlier in the year and has always performed well for Crystal Palace in his short career at the club.
But he could find himself on the bench ahead of their first competitive match against Portugal on June 5, kick-off 10am BST.
Berhalter said: "People have asked about our preparations for the World Cup this year, and so far I think things have gone extremely well.
"I haven't been able to see all of the US games this year, but I think it made sense for Bruce (Arena) to schedule all these games in order to assess as many players as possible. In the long run it was good for everyone."
Twenty-eight-year-old Berhalter says coach Arena has created a good spirit in the camp and is a great motivator.
He said: "Bruce makes it easier for us to relax and focus only on soccer. He reads the players very well, and is definitely well prepared for our opponents as well as instructing our team.
"Another of his skills is getting the most out of his players. He is a great motivator, and knows how to get the team ready play. That's very important."