May 30 2002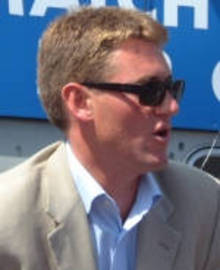 Simon Jordan said Dean Austin was wrong to criticise the club about the close season tour to Spain and had to go on the transfer list.
Austin, 32, was angry he had to cancel his family holiday because of Palace's involvement in the European Communities Trophy, in Seville.
He claimed it was a "Mickey Mouse" tournament and did not like being told nine days before the end of the season that he had to go on it.
He was fined a week's wages, put on the list and eventually stayed at home anyway as his mum was sick.
Jordan told the Croydon Guardian: "Dean is on the transfer list because of the actions he took. He was the captain of the club and I think he should set an example and more importantly, so does the manager.
"Dean decided to take it upon himself to criticise the club, myself and the manager and I don't think that in any organisation that wants to be successful, it's right for people to speak out of turn - perhaps behind closed doors but you do not do it in the public domain.
"I think Trevor believes that the basis of a successful club is respect and discipline and those are the things that Dean didn't really exhibit - so Trevor's made a decision."
With a weakened squad in Seville, Palace beat Malmo but lost to Real Betis in the following round.
Jordan said: "It was a very worthwhile trip. We did well to beat Malmo and we were unlucky against Betis, considering we had 13 players who weren't there.
"From the club's point of view, it gave the kids an opportunity to play, it gave Trevor an opportunity to assert himself as he possibly hasn't had the chance to during the season."
Jordan said there will be lots of transfer activity in the summer at the club as Trevor Francis looks to build for next season.
He added: "I think there'll be some movement both in and out. It's early days to see when and where but I think Trevor has got an idea of some of the players we think we need and also some of the players that we might move on.
"There'll be some activity and we are looking to strengthen but it's a timing exercise."