June 10 2002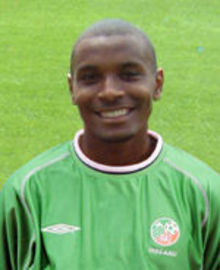 Clinton Morrison will be hoping to make an appearance from the Republic of Ireland subs' bench against Saudia Arabia tomorrow.
The Republic only need a two-goal win to be sure of qualification to the second stage of the World Cup.
Morrison has not yet been used by Mick McCarthy, but has backed his manager's decision to play Damien Duff and Robbie Keane up front.
He said: "I have to wait my time. I know my chance will come. Of course I was disappointed not to get into the action against Germany but if I was Mick McCarthy I would have gone for Niall Quinn as well.
"He has the experience at this level and he proved it when he set Robbie Keane up for the equaliser. It was a great change that Mick made.
"I'm itching to get my chance but I know I have to be patient. The most important thing is that we get the goals and the win we need to make it into the second phase.
"It doesn't matter who scores so long as we get the two goals we need and win the match.
"Robbie and Duffer have been brilliant and it's up the manager, he'll stick with the players who got him there but if he wants to make changes, I'm always available.
"Irish fans were brilliant, they're always brilliant, they were singing non-stop. We were celebrating like we won the World Cup."