June 21 2002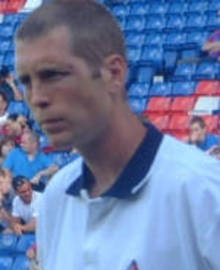 Gregg Berhalter stars for the United States as they outplayed Germany, but end up losing their quarter-final 1-0 and are out of the tournament.
But they can come home with their heads held high after dominating the match.
And if it wasn't for the heroics of keeper Oliver Khan, who made some fantastic saves, they would have made the semis.
Michael Ballack scored for the Germans in the 39th minute against the run of play. Before this the States had chances from Landon Donovan and Eddie Lewis.
Then Berhalter was unlucky not have scored as his effort was saved by Khan but the ball hit a German player's arm standing on the goal-line.
Some refs would have awarded a penalty and sent the man off, but the referee waved play on and after further US chances, the Germans held on for an unjust win.
Berhalter said: "Any spectator will tell you that we were unlucky today as their keeper came up with some great saves and kept them in the match.
"In this tournament we have shown the world we can play and there's a bright future for the game in the States."
Berhalter was solid as ever at the back and his perfromances must have proved to Trevor Francis that he does not deserve to be on the transfer list.
It was his 16th international cap whilst playing for Palace - his 28th overall - and he is three short of equalling Eric Young's club record of 19 caps for Wales. Hopefully, he'll be at Selhurst long enough to break the record.