Palace 1 - 1 QPR
Sunday August 20 2000 - League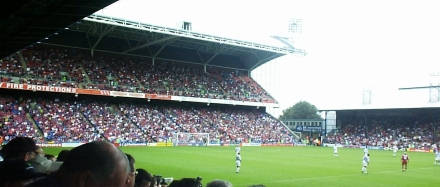 PALACE picked up their first point of the season in the televised game with QPR on Sunday - Mikael Forssell was on target in a hard fought derby.
But manager Alan Smith was left rueing a howler from rookie keeper Stewart Taylor which gave QPR's Clark Carlisle the equaliser.
Taylor, currently on loan from Arsenal, came way off his line to catch a cross but completely missed it, allowing Carlisle to head into the back of an empty net.
QPR had the lion's share of possession for most of the first half without converting their chances, but it was Palace who took the lead against the run of play right on half-time.
Forssell forced a good save out of Lee Harper in the Rangers goal, but the ball fell to Simon Rodger on the edge of the box. His shot long range shot was deflected into the net off Forssell's chest.
In the second half, Rangers pushed for the equaliser and were eventually rewarded due toTaylor's error.
One bad piece of news from the game was Jamie Pollock was stretchered off on his home debut after a clash of heads. He is set to be out for for a few weeks.
Post match comments
Alan Smith said: "I have still got money to spend and I intend to spend it, but I have only seen the team play three games and there is still a lot more to see.
"It is still early days and I have to see what I have got, but I know changes need to be made if we are to achieve our ambitions and I will be entering the transfer market.
"But one thing I have also learned is that loyalty doesn't always pay and I can guarantee I will be ruthless when it is necessary."
He added: "Something I won't be doing is criticising the players this time around. I have a very young squad and criticism can damage them. I want to develop the talent at this club not hamper it."
Rangers boss Gerry Francis said: "The game was entertaining and end to end and I was quite pleased with the outcome. The second half could have gone either way but we need to take our chances in front of goal."

From The Terrace Photos
Send us your own match report Click here
Match Stats
Ground: Selhurst Park (Attendance: 19020)
Palace: Taylor, Zhiyi, Ruddock, Mullins, Rodger, Morrison (McKenzie 83), Black, Forssell (Gray 78), Carlisle, Pollock (Fullarton 56), Harrison.

Subs not used: Smith, Austin.

Booked: Carlisle, Mullins.

Goals: Forssell 45.
QPR: Harper, Baraclough, Morrow, Ready, Peacock, Kiwomya (Connolly 82), Carlisle, Langley, Perry, Wardley, Furlong (P. Crouch 89).

Subs not used: Miklosko, Heinola, Jeanne.

Booked: Kiwomya

Goals: Carlisle 67.
Referee: F Stretton (Nottingham)