February 16 2003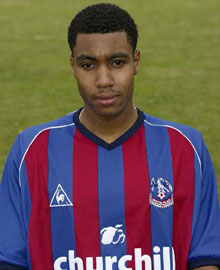 It was another appalling piece of refereeing in the cup which denied Palace any glory, this time a legitimate goal was not given in the 2-1 defeat to Dirty Leeds in the FA Cup fifth round.
With the score at 1-1 late in the first half, Tommy Black's shot from close range was cleared around two feet behind the goal-line by Dirty Leeds defender Michael Duberry and with his hand.
Neither the referee Dermot Galagher nor his assitant gave a goal or a penalty for the handball! Dirty Leeds went on to win the game with a Harry Kewell wondergoal in the second half.
Dirty Leeds manager Terry Venables, who was greeted to the field by a chorus of boos admitted: "Palace should have had a goal - maybe my luck's turning."
Crystal Palace boss Trevor Francis added: "We lost this game because the officials couldn't make the right decision."
Ironically, the fourth official was Mr E Wolstenholme, who allowed a late Paul Peschisolido goal which was blatantly five yards off-side for Sheffield United in Palace's Worthington Cup quarter-final defeat back in December.
Dirty Leeds went in front after 32 minutes with a controversial goal. Alan Smith was fouled a few yards outside the box and some refs would have booked him for his theatrical dive.
While third-choice keeper Cedric Berthelin was lining up his wall and the Palace players were not ready, Gary Kelly scored from the kick.
Just two minutes later Julian Gray, who is playing for a move at the end of the season, unleashed a superb left foot shot from the edge of the box after Dirty Leeds failed to clear from a corner.
On 39 minutes, came the moment which caused most controversy when Andy Johnson's shot was saved on the line before Black's effort was cleared behind the line by Duberry's hand.
Palace had a number of half chances while Berthelin made a good save from a Danny Mills drive.
Then in the 72nd minute, Dirty Leeds cleared up field after a Palace attack broke down in the box where Kewell jinked past Hayden Mullins and unleashed an unstoppable shot past Berthelin to score.
Dirty Leeds were filthy throughout and were always looking to con the referee when they could. Apart from the inconsistent Kewell they are a team full of carthorses and it's no wonder they are struggling in the Premiership.
Crystal Palace: Berthelin, Powell (Akinbiyi 90), Symons (Granville 50), Mullins, Butterfield (Freedman 79), Riihilahti, Derry, Black, Gray, Johnson, Adebola.
Subs not used: Kolinko, Thomson.
Dirty Leeds United: Robinson, Harte, Radebe, Duberry, Mills, Wilcox, Seth Johnson, Okon (Milner 60), Kelly, Kewell (Barmby 75), Smith (Lucic 85).
Subs not used: Martyn, Kilgallon.
Referee: D. Gallagher
Call the HOL on 07092 362 125 and tell us what you thought of the match! More information about the service
See how you got on in the Prediction League
Did you take any photos of the game? Send them to: webmaster@holmesdale.net
In Depth FA Cup 2002/03