July 26 2009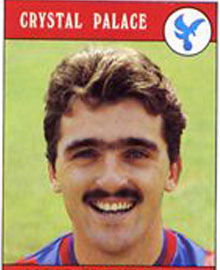 Crystal Palace reached the play-offs for the first time and secured victory over Blackburn to win promotion to the top flight.
Steve Coppell made a bold move in releasing record appearance holder Jim Cannon who was replaced by Fulham centre back Jeff Hopkins for £240,000.
Tony Finnigan left for Blackburn and Ken O'Doherty departed for Huddersfield. In came Mark Harris from Wokingham and Crewe keeper Brian Parkin.
August
Midfield schemer Dave Madden signed from Reading and Crystal Palace opened the new campaign with a 1-1 draw in midweek at home to just-relegated Chelsea. Palace's scheduled opening day match at Swindon was postponed as work on their ground was unfinished.
September
A home defeat to Watford was followed by four straight draws - Walsall, Shrewsbury, Sunderland and Portsmouth - before a Littlewoods Cup triumph over Swindon.
October
Palace eased through to the next round of the Littlewoods Cup 4-1 on aggregate after a 2-0 win against the Robins at Selhurst Park.
On the league front, wins were recorded over Plymouth, Ipswich, Bradford, Hull and Oxford, but the Eagles lost out to Stoke and a thrilling 5-4 defeat to Blackburn.
November
Palace were knocked out of the Littlewoods Cup by Bristol City but there was success in the Full Members (Simod) Cup against Walsall.
November was a mixed month for Palace with maximum points over Leicester, a draw with Barnsley and losses against Bournemouth and West Brom left the club in 11th place.
Alex Dyer came in from Hull for £200,000 and he replaced Neil Redfearn who joined Watford.
December
Two wins (Birmingham and Oldham) along with a pair of draws (Man City and Leeds Utd) plus a defeat to Brighton were Palace's rsults for this month. It meant Palace placed ninth at the end of the year. The Eagles saw off Southampton in the Full Members Cup. Rudi Hedman joined from Colchester for £40,000.
January

Palace exited the FA Cup to Stoke but they put Luton and Middlesbrough out of the Full Members Cup. In the league, three points were won against Walsall and Swindon but unfortunately Chelsea were victorious. Winger Eddie McGoldrick was signed from Northampton.
February
The Eagles had their hopes of winning the Full Members Cup dashed with defeat at Forest. But an unbeaten month in the league with wins over Ipswich and Bradford, plus a draw with Blackburn left Palace in seventh.
Assistant manager Ian Evans quit to become new Swansea City manager. Dennis Bailey went out to Bristol Rovers on loan.
March
Stan Ternent was unveiled as Steve Coppell's new assistant manager. A poor start to this month with losses against Oxford and Bournemouth, then a draw with Barnsley hampered Palace's play-off bid. However, victories against Sunderland, Watford and Brighton left them in seventh - one place outside the play-offs.
The 2-1 victory over Brighton saw a Football League record broken when referee Kelvin Morton awarded five penalties - four to Palace and one to the Seagulls. Ian Wright put Palace ahead then Mark Bright scored the first penalty for Palace to put the Eagles 2-0 up. Bright then missed a second spot-kick, before strike partner Wright wasted Palace's third penalty. Alan Curbishley converted Brighton's penalty to pull a goal back before John Pemberton skied over Palace's fourth attempt from the spot.
April
With eight fixtures this month, there was a good chance for Palace to pick up plenty of points in their quest for promotion. They did not disappoint with wins over Leeds, Oldham, Hull, Portsmouth, Plymouth and West Brom and just two losses with Swindon and Shrewsbury. It propelled the Eagles up to fourth place.
May
Despite drawing with Man City and Leicester in the first two games of the month, Palace were sitting comfortably in fifth in the play-offs. Success against Stoke in the penultimate match of the season guaranteed the play-offs and moved the Eagles up to third - three points off Man City in second spot with Birmingham up next on the final day.
Victory over already-relegated Brum with a margin of five goals and defeat for Man City at Bradford would see Palace claim the automatic second spot. But despite a 4-1 win in a match marred by a pitch invasion, City drew with Bradford to leave Palace in the lottery of the play-offs for the first time in their history.
Up against Swindon in the play-off semi-final first leg, Palace suffered a 1-0 loss at the County ground after a Jeff Hopkins own goal. In the return leg, a 2-0 victory thanks to goals from Ian Wright and Mark Bright meant a two-legged affair with Blackburn in the final.
Blackburn had the upper hand in the first match at Ewood Park, running out 3-1 winners - Eddie McGoldrick netting a priceless goal for the Londoners.
June
In front of a 30,000 sell-out crowd at Selhurst, Palace brought the scores level after goals from Ian Wright and Dave Madden from the penalty spot. With the tie locked at 3-3 on aggregate, Wright popped up in extra-time to head the winning goal to spark a mass pitch invasion. Palace were promoted back to the First Division!
In Depth Players recall 1989 play-off win
1988/89 league table progress graph
Player of the Year: lan Wright
Young Player of the Year: David Stevens
View every Player of the Year winner
Top Scorer: Ian Wright 33 (24 league, 9 cup)
View the top scorers for each season
Average attendance: 10,655
See each season's average attendance
In Depth The 1980s revisited