October 16 2018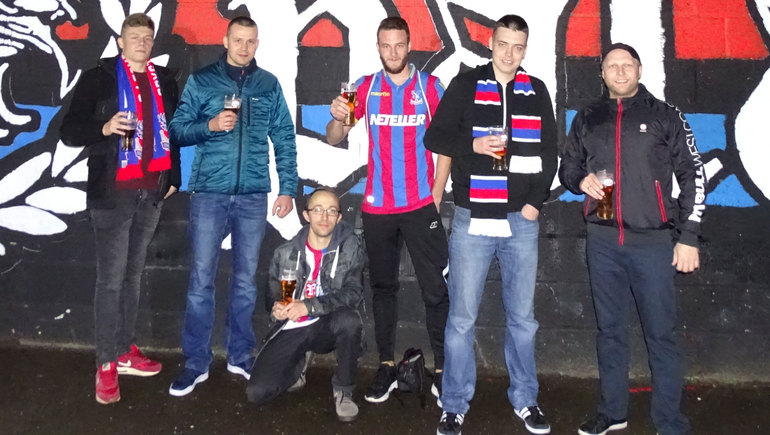 We're spotlighting the best Crystal Palace supporters' groups from around the world. Michal Backiel founded CPFC Polska and he tells us about the Polish fan club.
So what's the name of your group?
We are Crystal Palace FC Ė Polski Fan Club or CPFC Polska. Depending on your needs, we use these two names. We unite fans from Poland and Polish fans living in UK.
Who set it up?
Iím a founder of our fan club. I was born and live in Bialystok Ė a city in north-eastern Poland. Iím a fan of the local club Jagiellonia, but more than six years ago I began to watch Crystal Palace matches in the Championship. After promotion to the Premier League in 2013, I decided to create a blog on Facebook about Crystal Palace. In the meantime, the blog has changed into a fan club, which today brings together many Polish fans of the Eagles. Among us, there are representatives of Holmesdale Fanatics and club employees.
Do you get over to Selhurst Park often?
Polish fans living in the UK regularly go to matches. My first match was in September 2017 against Southampton at Selhurst Park with four friends. Before this, I did not have time and money because I focused on science in high school and I'm only 21 years old. I'm flying back to London soon, this time for the match against Arsenal in October. Over 10 people will be flying from Poland for this and about 10 people will be waiting for us in London. We already have a meet planned for the pub.
Where do you watch games and times you meet?
We watch matches individually at home or in pubs as a group. We do not have our favourite pubs in Poland. Our groups meet in Bialystok, Warsaw, Gdynia and other cities. The time difference between Poland and England is only one hour, so we donít have any problems.
What's good about your venue?
Polish pubs have very good beers! The Polish are very nice people, so we always get to meet cool people who want to learn something about our fan club. Many are surprised Palace have Polish supporters.
How many people do you get watching games?
Itís difficult to determine the size of our group Ė we meet new fans all the time. The main group (the most fanatical fans) is about 40 people, half of whom live in England. Many of us have season tickets, several fans go for away games. We are a very diverse group due to the fact that some people live in London and the others live in Poland. The match against Arsenal will be something amazing for us, because for the first time in history there will be such a large number of Polish fans at Selhurst Park Ė a total of over 20 fans. But who knows, maybe there are other Polish fans that we do not know?
Have any ex-players or big names come along?
Unfortunately, Jaroslaw Jach is the only Polish player who has been at Palace. We regret that he did not get a chance in the Premier League and was loaned out. We hope he will come back stronger and show what he can do because he has talent!
Funniest or weirdest moments?
The most funny moment in our fan club history was a language error on our Twitter known as "Poles in the Arthur", which was used during the presentation of Jarek Jach. The fans from England will remember us forever!
Do you organise any other non-matchday events?
Sometimes we organise charity donations, for example Palace for Life Foundation and we plan to organise blood donation as a group.
Any connection with other teams' fan groups or local community?
No, we do not have connections with groups of fans from other clubs. Privately, each of us supports their local teams: Jagiellonia Białystok, Legia Warsaw, Lech Poznan, Arka Gdynia and many more. Sometimes we meet at the matches of these teams.
Do you have any social media accounts?
If someone wants to meet us in a pub, please contact us on Facebook, Twitter, Instagram, the website or by email: cpfc.polska@gmail.com.
We also have our YouTube and SoundCloud channels: CPFC Polska TV and CPFC Polska FM.
We are honored to be part of this amazing club. We will always proudly represent Red and Blue Army in Poland. Thanks for this interview.
Thanks for your time Michal!
If you run an overseas Palace supporters' group, then let us know by emailing editor@holmesdale.net and we can feature it.
Check out our profile on the CPFC Sydney Supporters group.