December 28 2004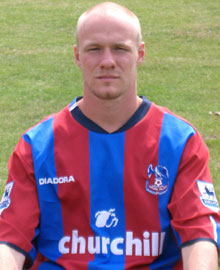 Palace pick up a point away at Tottenham Hotspur thanks to an Andrew Johnson goal.
Coming off the back of 2 successive defeats, a trip to White Hart Lane was not going to be the place where any team would want to be visiting at the moment. Spurs have gone on a 5 game winning streak, scoring goals for fun and conceding very few. They have one of the better keepers in the league in Paul Robinson and in Jermaine Defoe a livewire striker who has overtaken our very own AJ in the scoring charts.
Things were not faring well, defeats to Manchester United and to Portsmouth have really piled on the pressure at the botTOM of the table. We were without Joonas Kolkka (rib) and Emmerson Boyce was on the bench, allowing Danny Butterfield a chance to impress once again, since his return against Pompey the week before. Gonzalo Sarondo continued in the centre of defence. Spurs recalled Defoe, putting Robbie Keane on the bench. Oh, to have a strike force with the strength in depth that they have....
It has been 12 years since I last frequented White Hart Lane and the wooden "Shelf" has been replaced by now an impressive 2 tier South Stand. The views offered from the top of the stand were quite spectacular. After the deflating performance against Portsmouth, hope sprang eternal as we took the field for the 2nd game in 3 days.
The way we bossed the first half was welcome, as it was surprising. After 2 minutes, Danny Butterfield sent over a cross which was deflected behind for a corner. From that moment on, we never let up. AJ brought a smart save for Paul Robinson a minute later. Spurs were on the back foot but they showed why they had been performing so well recently by breaking away and forcing a corner of their own on 6 minutes. Micheal Brown and Reto Ziegler combining well to bring an easy catch for Kiraly. A minute later and AJ had the ball in the net, but was adjudged to have been offside. No matter, we were in the ascendancy.
The Tottenham players display a good understanding on the field, possibly because most of them seemed to have played together at West Ham only some seasons ago and it was the Carrick - Defoe combination which was looking potent. On 20 minutes Carrick played a ball over the top which Kiraly cut out, with Defoe lurking in the box menacingly.
But it was our own goal hero AJ who was going to have the best chances of the half. Vas Lakis crossed on 26 minutes and AJ was just inches from connecting to give us the lead.. Meanwhile Frederic Kanoute, the other player Spurs got from West Ham, gave Kiraly something to think about with a clever run and shot.
The next chance fell to Lakis, whose shot from around 20 yards out was deflected wide for a corner, the result of which saw Aki head the ball over. In fact, seeing Lakis playing from the start was a welcome sight, and he was not disappointing. Involved with nearly everything good that we created, on 40 minutes he supplied a cross for our most clear cut chance of the game. AJ took two touches and Paul Robinson pulled off a remarkable save from 6 yards. 0-0 at Half time, but there was no doubt that we were the better side.
Martin Jol, clearly not impressed by what he saw in the first 45 minutes, brought on Pedro Mendes for Rohan Ricketts and the improvement was instant. We had no way of getting the ball from Spurs and for the first part of the 2nd half, it was all Spurs. Micheal Brown brought a good save from Kiraly, before Kanoute won a corner. Athough nothing became of it, we were under pressure. Wayne Routledge, who had a good first half to be fair, gave away a needless free kick which saw Ziegler pass to Defoe whose powerful shot was pushed onto the post by Kiraly. Worse was to follow, the ball came back out to Erik Edman and from an identical position, Defoe went one better. If the first effort was a rangefinder, this was a exocet missile which Kiraly had no chance. It was perfectly placed and Kiralys dive was good, but the shot went in off the post. 5 minutes later, Kanoute had the ball in the net again. Thankfully, the linesman had his flag up for offside.
By this time, all the good work done in the first half was looking to be for nothing, Routledge went off the boil, misplacing passes and generally looking disinterested the longer the game went on. After an awful pass which gave Spurs yet another chance to launch an attack. Dowie had finally seen enough. He had Sandor Torghelle waiting to come on for 5 minutes and with Routledge going from bad to worse, he was the obvious choice. No sooner had Sanyi come on, the whole nature of the game changed once again.
We were back in it! Sandor received a pass from SOARES which set up AJ and Gardner brought him down just inside the box. Uriah Rennie, however waved play on. 3 minutes later he was at it again, receiving another pass from SOARES and this tiime Sanyi, who Gardener was leaning all over, finally went under after another heavy challenge. Goal kick was the decision. Scandalous.
But with Sandor chasing every lost cause, the impetus had been put back into the game and we looked threatening again. Sanyi was playing like he never had before, with purpose and controlled agression. Lakis was still causing problems for Gardner, forcing the Tottenham defender into giving away 2 free kicks, the second of which he received a yellow card for. But despite of these chances, we could not convert any of the dead ball situations into goalscoring chances.
While it looked like we were going to pay for our first half profigacy, AJ took matters into his own hands. 25 yards out, with no real attention given to him by the Spurs defence (could that have been due to the Sandor effect?), he looked up, shot and the ball was in the corner of Robinsons net. The small cluster of us in the corner went bananas as AJ finally got to double figures for the season. His drought was over.
The match drew to a close with Rennie giving nothing in our favour and playing extra minutes on at the end, but not even he, could try to engineer a 6th straight win for Spurs. Then it was over, we'd stopped a team who was in a fine run of form with a performance of top quality. A little unexpected it may have been, but we are certainly on the right track.
If a draw would seem a fair result, off the pitch the match was won in the 1st minute as we outsang and out thought our North London counterparts song for song. Their chant of "Who are ya?" in the 1st half was met with a wall of "We are Palace, Super Palace" and "Iain Dowies Red 'n' Blue Army". They sang nothing, not even when they were 1-0 up and even when the ref was their 12th man. Quite simply, the away fans were magnificent.
Which brings me onto the referee Uriah Rennie. Certainly he denied us 2 cast iron penalties. But his 2nd half blindness towards us beggars belief. Spurs got away with murder. Fouls went unpunished, while countless challenges by our boys which were more than fair, got free kicks. Sometimes, it was hard to see what infringement had even occurred.
Man of the Match? Tough call, as every player played his part. The defence was strong, Granville had his most solid game for a while and despite one or two misplaced passes, Butterfield appears to have made the step up to the Premiership with ease. SOARES and Lakis played well all game while Routledge was very good 1st half, but tailed off in the 2nd. Sanyi coming on changed the game for us, but I would have to give the man of the match to AJ, who never lost hope and kept going all game. Maybe with Sanyi as his favoured strike partner, he will finally be able to get more space to do some damage. His work rate cannot be faulted and he has kept going, despite not scoring in 8 games. Onward and upward then, as Foolham looms on New Years Day. Now a must win game.
Tottenham Hotspur: P Robinson, N Pamarot, L King, E Edman, A Gardner, R Ricketts, M Brown, M Carrick, R Ziegler, J Defoe, F Kanoute.
Subs: M Fulop, M Pedro Mendes, R Keane, J Redknapp, C Davenport.
Crystal Palace: G Kiraly, D Butterfield, F Hall, G Sorondo, D Granville, W Routledge, T SOARES, A Riihilahti, M Hughes, V Lakis, A Johnson.
Subs: J Speroni, W Andrews, S Torghelle, M Leigertwood, E Boyce.
Referee: U Rennie.
Today's football results and scorers
Call the HOL on 07092 362 125 and tell us what you thought of the match! More information about the service
See how you got on in the Prediction League
Did you take any photos of the game? Add them to the From The Terrace Gallery