January 3 2005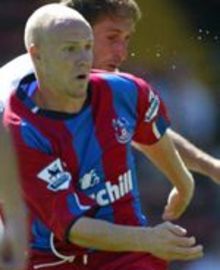 Andrew Johnson bagged his 12th and 13th goals of the season as Palace beat Aston Villa 2-0, writes Simon Pophale.
My opening comment of the Fulham report was that Palace Fans would consider that game as the turning point of the season. How right I was!
Admittedly, I didn't think that it would lead to an upswing in our fortunes. After that lacklustre display against a team that really deserves more respect, many of us might have been concerned as we trooped down to Selhurst Park to see our boys face Villa. Indeed, as the 1st 30 minutes were to indicate, it could have been a long afternoon.
Dowie made some key changes too, bringing in Darren Powell for Popovic and replacing TOM SOARES with Ben Watson. On the bench too, changes were made as Torghelle and Andrews were dropped in favour of Shipps and Doog.
Villa came at us from the off. Danny Butterfield was going to have a long afternoon as JLloyd Samuel and Gareth Barry doubled up on the right and time after time sent over crosses that we should be grateful that Nolberto Solano was not being employed down the right.
Barry had numerous chances as early as the 2nd minute. Butts, clearly feeling the pace of playing 4 games in a short space of time, did not pick Barry up and his woeful crosses we either met by the welcoming gloves of Gabor Kiraly, or went wide. Solano showed 4 minutes later how it should be done but his pinpoint cross, met by Barry again was saved by Kiraly.
The Villa fans came in large numbers and were totally outsinging us. "Going down with the Norwich", thier song of choice. I suppose that with the way the game had opened, the Brummies were hopeful of getting all 3 points.
Indeed this was the way the first 15 minutes carried on, with us not even getting out of our own half. AJ had a shot which drifted wide, but this was only brief respite from the Villa domination. Indeed the next 15 did not offer much either, despite us winning 2 corners from which we wasted.
Micheal Hughes was in the thick of the action but neither he or the ever dangerous Wayne Routledge, could conjure up a decisive breakthrough.
But then totally against the run of play, we scored and it was a peach of a goal. Ben Watson, whose return had been so far undistinguished, drove a shot in from about 20 yards which Sorensen could only parry and AJ reacted quickest to blast it high into the net. We were 1-0 up and the Villa fans, suddenly became deathly silent. Indeed, had Sorensen not pulled off a top drawer save for a Lakis piledriver minutes later, they could have gone catatonic!
Villa did manage to reply with some swift breaks and Solano was the key man still, sending in quality crosses but when no Claret shirt was on the end of it, he tried his own luck, Kiraly making a comfortable save towards the end of the half.
However, we would have the last effort of the half, from a corner the ball bounced around the area and AJ forced it home. It was given as an offside but, quite frankly, this was a harsh decision. At least, we'd taken the lead and not panicked, to go into the break ahead.
And D'urso, (Johnny No Mates) had a decent first 45 minutes. But as the Premierships' most unaccomplished ref, he had only taken charge of 10 games, the lowest amount of all the referees, this season, he managed to have a dire 2nd 45.
This started as early as the 48th minutes, when Lakis was brought down by Delaney. Nothing doing. One minute later, Micheal Hughes clattered into Steve Davis. D'urso - booked him. He was living up to his reputation.
Although Davis did manage a decent cross on 55 minutes, Aki knocked it away for a corner. Indeed, with Kiraly dominating his area, Juan Pablo Angel had no sniff of the ball at all in the game. Angel, with only 3 goals this season, looks woefully short on confidence. Which is just as well. Powell and Hall had done well.
Powell had found the first 30 minutes a bit of a struggle and some of his headers and clearances were not particularly confident, but he had now settled into a rhythm and Villa did not seem able to penetrate our back line.
Then came the decisive 2nd goal and finally D'urso was going to give a decision our way. Hughes and Watson had been combining well and from a Routledge cross, Lakis was upended in the boc and AJ did the necessary. 2-0 and the game was now really all over for Villa.
Indeed Dowie almost went as for as subbing Routledge, who was a constant threat all day but changed his mind, bringing Leigertwood on and taking Watson off.
Villa now had to take the game to us, and we started to expose them in midfield. Lakis particularly was impressive, his constant running nearly earnt us more reward as hs run into the box was checked and his cross hit the had of Mark Delaney, but D'urso again waved play on.
A stonewall penalty, how he missed it, was anyones guess. At least there was not " You got your penalty didn't you?" comment.
Leigertwood,Lakis and Aki were dominating the midfield now and Routledge was continually dancing around Samuel and Delaney, giving them a torrid afternoon. Indeed, the way he held up the ball, in the face of 2 or more Villa players, was a joy to watch.
As the game petered out, Emmerson Boyce made his entrance and tightened up the right hand side, with Butterfield having been given the run around all afternoon. Indeed Boyce added much needed presence down the right, which gave us the calmness to close out the win. Indeed, with more luck Leigertwood could have scored and poor old Lakis might finally get a goal in Palace colours, with Sorenson keeping him out again towards the end.
Relief came at the final whistle and our first win in 2 months was confirmed. I didn't think we would see a Dowie punch again, but this now was a welcome sight and totally banished the horrors of New Years Day.
Lets just hope we can become more consistent as this display was really encouraging. No panicking when we went into the lead, the midfield finally dominating and the defence, in the centre, looking solid.
Man of the Match has to be Andy Johnson, whose constant hardworking attitude and effort was justly rewarded. I'll bet O'leary wishes that he was playing for Villa, as Angel might was well not have been playing. Darren Powell and Wayne Routledge were also mightly impressive.
All of these players have been linked away from Selhurst Park, for varying reasons. Lets hope that they are all still with us, when we go back to the Midlands on February 1st to face West Brom.
Our survival will depend on it.
Today's football results and scorers
Call the HOL on 07092 362 125 and tell us what you thought of the match! More information about the service
See how you got on in the Prediction League
Did you take any photos of the game? Add them to the From The Terrace Gallery