January 15 2005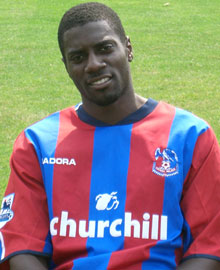 A Shaun Wright-Phillips brace, and a goal by Robbie Fowler was enough for Manchester City to take all three points.
I believe that we have witnessed the best player in the country perform yet again today. People talk about Wayne Rooney, but on the evidence of todays 90 minutes and the impact that he has on his entire team, Shaun Wright-Phillips is far and away the best player in the league.
His contribution today was immense, scoring 2 but the general havoc that he causes was the highlight of the game, not something Palace fans wanted to hear, or in fact see.
Going to Manchester in confident mood, especially with Nicolas Anelka out again, I felt that a point or even all three would not be beyond us. City are the epiTOMe of inconsistency, losing against Oldham in the Cup one week, drawing with Arsenal the next before committing Hari-Kari at home to West Brom.
We all would hope that it would be the City that turned up against Oldham, and not Arsenal, would be the one that we would be facing.
Iain Dowie said before the game that we would have a contigency plan for Wright -Phillips. However by the time 15 minutes had elapsed, it was hard to see what the plan was, as we were already trailing by 2-0. SWP firstly broke through the defence of Powell and Leigertwood on 10 minutes, sending a shot wide of Kiralys goal. 2 minutes later, Joey Barton fed a pass to SWP who was running deep and not being picked up by anyone, he skipped past Leigertwood and Powell but this time arrowed his shot into the corner.
1-0 became 2-0 as the nemesis that is Robbie Fowler, beat first Boyce, then Powell before beating Kiraly from close range. 2-0 and all over. In fact, if it was not for Kiraly, it could have been 4 or 5 as he made fine saves from Fowler again and Jon Macken.
In fact the first 30 minutes yielded nothing in terms of attacking quality from us, but the Blues racked up an impressive 5 corners.
A rare foray from us saw AJ get fouled on the right hand side by Richard Dunne and from the resulting free kick, taken by Wayne Routledge, Darren Powell made up for his earlier defensive blunders by heading us back in the game. 2 -1 and David James showed his disgust for the marking for our goal by booting the ball high into the stands.
Petulance maybe, but for all Citys' possesion in the first half, the game was back on. If AJ who made an impressive run on another breakaway had managed to find the target, we would have gone in at 2-2. But it was not to be.
However a situation that was known to all Palace fans was that in our squad, back in August, we only had 3 left sided players in our whole squad. Danny Granville, Joonas Kolkka and Gary Borrowdale. It was a clear problem that we had no left sided cover, Borrowdale not even being given a look in since promotion and his strengths are more attacking than defending.
However for this game we were to have no Kolkka (still injured) and no Granville (suspended). Add to this no Aki and Micheal Hughes (injured and suspended respectively) you could see that this was a weakend side. But none the less, Dowies' choices for this game was poor to say the least.
On the pitch, we had our most gifted centre back at left back, 2 Championship quality defenders in the middle, with only Hall being a recognised Premiership defender. Boyce was at Right Back but occaisonally moved to left back.
Add to this, our only naturally left sided player was on the bench, leads me to believe that with hindsight, this did not work. If Leigertwood was to be the link between defence and midfield, ideally being the man to stop SWP, then this failed.
The 2nd half saw a much more even contest, despite there being no real goalbound efforts from us looking to bear any kind of fruit. Dowie did change things around, bringing on Neil Shipperley,Wayne Andrews and Gary Borrowdale, but other than a couple of specularitive efforts from SOARES and Borrowdale, we never looked like scoring. City, brought on another arch enemy of Palace, Steve Macmanaman but not even he could raise their game.
However in the last minute, with defeat almost a certainty, Fowlers square ball found SWP about 5 yards out and he deflected the ball into the net. 3-1 and really, we could not argue with the result.
What this did show was that our squad is woefullly thin, with no depth on the left and a severe lack of ideas in the middle. Ben Watson had one of the worst games I have seen in a Palace shirt and was subbed at half time, AJ looked to be well marshalled by Distin and Dunne and while it was good to have Sorondo back, he was ineffective as a full back. Lets hope that our quartet that was out will be back for Spurs, as we will need them.
After all, if Wayne Routledge does go, our squad will only be depleted further. Despite not being roundly booed, he did have a fairly poor game. I cant see anyone stumping up the cash for him, on the strength of this performance. But SWP - is in a different class. He is really the reason why Manchester City are not in the botTOM 4.
They can survive without Anelka, but if Shaun goes, I believe that Manchester Citys Premiership place will be under threat. He was Man of the Match, no question. Gabor Kiraly was again our man of the match, which really tells its own story.
It can only get better from here.
Crystal Palace: G Kiraly, E Boyce, F Hall, D Powell, G Sorondo, W Routledge, M Leigertwood, B Watson, T SOARES, V Lakis, A Johnson.
Subs: J Speroni, D Butterfield, N Shipperley, G Borrowdale, W Andrews.
Referee:A Marriner.
Today's football results and scorers
Call the HOL on 07092 362 125 and tell us what you thought of the match! More information about the service
See how you got on in the Prediction League
Did you take any photos of the game? Add them to the From The Terrace Gallery