August 27 2005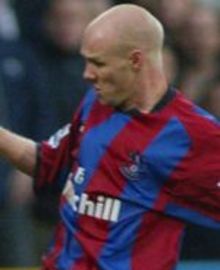 Crystal Palace beat Stoke City 2-0 as Clinton Morrison marks his return to Selhurst Park with an assist, writes Simon Pophale.
It would be fair to say that this match only came to life in fits and starts, would be a slight understatement.
From the first minute, we had them on the back foot, Jobi McAnuff driving wide after only 20 seconds. 3 minutes later, Ben Watson drove straight at Steve Simonsen and for the next 5 minutes, we dominated possession and proceedings, with TOM SOARES setting up John Macken on 9 minutes who fired over from only 6 yards out.
Stoke, who clearly could not cope with the early onslaught, found their feet soon after as Luke Chadwick started to dominate the left, sending in some dangerous crosses, as was Marton Kolar who set up Mamady Sidibe, who headed wide on 21 minutes.
Stoke managed to keep us at bay until just before the half hour mark, when AJ after being set up by Emmerson Boyce after a Watson corner, fired onto the bar from 8 yards. Immediately Stoke created a chance of their own when Chadwick broke down the left and passed cross field to Kolar, but the Czech midfielder could only put the ball wide of Kiralys' goal. Carl Hoefkens then headed a corner just over 2 minutes later.
The half was playing out quite evenly until the 44th minute, when we were finally rewarded. Jobi McAnuff got the ball to Borrowdale, who in turn fed Macken, whose pass was met by AJ who thundered a shot into the botTOM corner.
Stoke came out in the 2nd half determined to make amends for going behind so late in the first half. We managed to withstand all that they could throw at us as Leigertwood and SOARES began to impose themselves on the game.
It became a midfield battle, with little chances except an outstanding save from Kiraly as he pushed a Sidibe shot away on 54 minutes. However the face of the game was changed with around 20 minutes to go.
Micheal Hughes came on for the tiring Watson, then 5 minutes later the cheers that rang out were not only to greet Aki Riihilahti replacing SOARES, but to welcome Clinton Morrison, who replaced Jon Macken, who had played well and with 15 minutes to go, we hoped Morrison might unleash some terror.
As with the Plymouth match the week before, the change of a striker brought an added impetus to the team. In the case of Stoke, their substitution of Junior, who had been largely ineffective had brought on the return of another former striker, this time Bruce Dyer. Immediately he set about doing what he did best, speeding down the right flank and then cutting in at the last minute.
Poor old Borrowdale did not know what hit him,as Dyer went around 2 or 3 times within 5 minutes of his arrival - with no end product. However Kiraly pushed a fantastic Dave Brammer effort wide of the post with just 8 minutes to go.
This might be the difference between us and other teams in the division this season. When you can bring on 3 Internationals from the bench, against Premiership sides, the opposition will no doubt have similar quality. In the Championship, it can make or break the game.
So when Lewis Buxton miscontrolled a simple ball, Micheal Hughes was on it like a flash, his ball into AJ saw the England International play a brilliant pass to Morrision, who returned the pass back out to the drifting Johnson which set him up with a 1 on 1 situation with Simonsen. AJ effortlessly lifted the ball over the advancing keeper and it was 2-0.
The best part was the celebration at the end, Morrison went into the goal and kissed the badge on his shirt in front of the jubilant fans in the Holmesdale. Welcome home Clint.
Crystal Palace: G Kiraly, E Boyce, D Ward, F Hall, G Borrowdale, T SOARES, M Leigertwood, B Watson, J McAnuff, J Macken, A Johnson.
Subs: C Morrison, A Riihilahti, M Hughes, W Andrews, J Speroni.
Stoke City: S Simonsen, L Buxton, M Duberry, C Hoefkens, M Broomes, L Chadwick, D Brammer, K Henry, M Kolar, G Junior, M Sidibe.
Subs: K Harper, A Wilkinson, E de Goey, B Dyer, G Taggart.
Today's football results and scorers
Call the HOL on 07092 362 125 and tell us what you thought of the match! More information about the service
See how you got on in the Prediction League
Did you take any photos of the game? Add them to the From The Terrace Gallery