Hull City v Palace
Kingston Communications, Saturday 3.00pm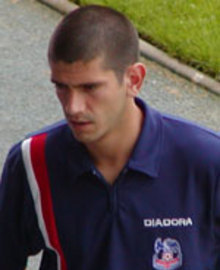 Team news
Defender Butterfield suffered an ankle injury in the Eagles' 1-0 win at home to Coventry on Saturday.
He is likely to be replaced for former Millwall star Matt Lawrence, who will switch from midfield to right-back.
Welsh international Carl Fletcher could replace Lawrence in midfield after overcoming his own ankle injury.
Palace's ankle injury curse continues as TOM SOARES is still injured. Former Hull defender Leon Cort will keep his place, while another ex-Tiger Stuart Green will start on the bench.
Hull's David Livermore and Sam Collins hope to shake off knocks, while Nicky Forster, Danny Coles, Nick Barmby, Darryl Duffy, Dean Marney and John Welsh are pushing for starts.
---
Hull City - league stats
| Position | Played | Won | Drawn | Lost | Points |
| --- | --- | --- | --- | --- | --- |
| 24th | 9 | 2 | 1 | 6 | 7 |
---
Hull City - current form
| Played | Won | Drawn | Lost | For | Against |
| --- | --- | --- | --- | --- | --- |
| 5 | 2 | 1 | 2 | 4 | 5 |
---
Our away record v Hull City
| Played | Won | Drawn | Lost | For | Against |
| --- | --- | --- | --- | --- | --- |
| 19 | 4 | 5 | 10 | 18 | 36 |
---
Last five results
| Date | Type | Home Team | Score | Away Team | |
| --- | --- | --- | --- | --- | --- |
| 14/01/2006 | League | Hull City | 1 - 2 | Crystal Palace | |
| 10/09/2005 | League | Crystal Palace | 2 - 0 | Hull City | |
| 30/09/1997 | League Cup | Crystal Palace | 2 - 1 | Hull City | |
| 16/09/1997 | League Cup | Hull City | 1 - 0 | Crystal Palace | |
| 11/04/1989 | League | Hull City | 0 - 1 | Crystal Palace | |
---
One to watch
Jonathan Parkin
Hull City's top scorer
Jonathan Parkin - 5 goals
Hull City's bad boy
Jonathan Parkin - 1

1

Two wins on the trot, two clean sheets and two weeks until our next fixture [after tomorrow].
They say the table starts to take shape after about 10 games - 9 have passed and I think the top 10 are starting to look settled. I can't see there being too much of a change to the leading 10 at the end of the season.
It's all still quite close at the top of the table – the complete opposite to last season when Sheffield United had already taken a 7-point lead of third position and, as we all know, they left the rest of the table playing catch-up.
Palace are sitting comfortably in 5th. A win on Saturday could put us into the second automatic spot, which would be a nice way to head into the International Break. Speaking of Internationals, Ben Watson and Gary Borrowdale will be facing Germany in the U21s whilst the usual suspects are off playing for their countries.
Gary has been playing well since he's been back in the side. Like Soares, he looks a much more mature player, brimming with confidence. A confident Borrowdale is an asset to team and he's rightfully pushed Granville onto the bench. What might egg his confidence on that little bit more is the cross that Gary put into Clinton Morrison last Saturday afternoon to set up the winner.
After a lovely passing move, Borrowdale pick up the ball wide left and put a pinpoint ball into Clinton who took one touch with his right foot, turned on the spot and fired over the 'keeper with his left. Marshall was left rooted to his spot as he helplessly watched a fantastic strike bounce off of the upright and into the back of the net down to his left.
An unfortunate note from the game is that Danny Butterfield has picked up another injury. Although he's never been the most solid fullback, it looks as though he'll never get a chance to regain the form he had in our promotion season. Ben Watson came on for the injured Butterfield and put in a solid performance. Once he'd settled into the game he passed the ball around nicely and pushed forward towards the box in an attempt to finish off a passing move. He did have a free kick well saved.
All three youngsters and now starting to shine, under a manager who is able to nurture and develop them into the good players that we know that can be.
Onto Saturday then. Although Hull are sitting at the root of the table, this will probably be one of our harder away games this season. The team is pretty much still a Peter Taylor team and those players will want to get a win against their former manager.
Palace have already encountered Nicky Forster on their travels this season. However, it's unlikely that he'll be beating Hudson for pace this time around but Ward is standing by to be tested by the fierce pace of the Caterham lad.
This weeks one to watch has to be City's top scorer – Jonathan Parkin. He's a big bastard who can certainly put himself about in the box and find the back of the net. He certainly enjoys a hotpot or two from his native Barnsley where he began his playing career. He'll have the hardworking and pacey Craig Fagan playing off of him as well which will provide an additional threat. Peter Taylor signed Fagan from then League 1 side Colchester. Parkinson left him with a glowing report - "Craig is a very special talent. He has pace and athleticism and I believe that he has the ability to play at the highest level."
One other to watch will be left-winger Mark Yeates on loan from Spurs.
Probable line-up



Morrison




Scowcroft




Hughes




Kennedy




Watson




McAnuff




Borrowdale




Ward




Cort




Lawrence




Kiraly
Last meeting
Did last season at the KC give us an insight into what Saturday's game will be about? Both Cort and Ward were the scorers for Palace.
The last away fixture at the KC saw us walk away as 2-1 leaders. Ward toe-poked a blocked Mark Hudson header and Cort put the ball into the back of his own net - the only place it could really go after a deadly Andrews cross.
We had a bright start but in typical last season Palace fashion, the game petered out and we looked like conceding at any time.
John Parkin scored for City on the 25th minute - just after our second. The defence all had a Granville moment - stood still and put their hands in the air awaiting offside to be given. It never game and Parkin slid in and put the ball away.
After that, Johnson looked lively for Palace but lacked any end product. Both sides had quite a few shots on target - all pretty easily saved.
Macken lasted until the 84th minute.
Fitz Hall was dropped.
Andrews had a good game out wide.
Black was on the bench.
Football League championship - KO 15:00 Hull City 1(1) - 2(2) C Palace Ward 9 Cort 24 (OG) Parkin 25 At Kingston Communication Stad. on 14-01-2006
Hull City: Myhill ,France ,Cort ,Collins ,Lynch (Green ,26 ) ,Price (Duffy ,59 ) ,Andrews ,Delaney ,Barmby (Elliott ,74 ) ,Fagan ,Parkin Subs not used: Leite,Paynter,
C Palace: Kiraly ,Boyce ,Ward ,Hudson ,Borrowdale ,Andrews (Freedman ,77 ) ,Watson ,Hughes (Riihilahti ,86 ) ,McAnuff ,Johnson ,Macken (Morrison ,84) Subs not used Black,Speroni,
Bookings: Barmby ,Price (Hull City) Boyce (C Palace)
Attendance: 18886
Referee: C Webster (Tyne & Wear)
Prediction league
0 members have predicted for this game so far.
Make your prediction on this game
Away travel info