Sheffield United v Palace
Bramall Lane, Saturday 5.20pm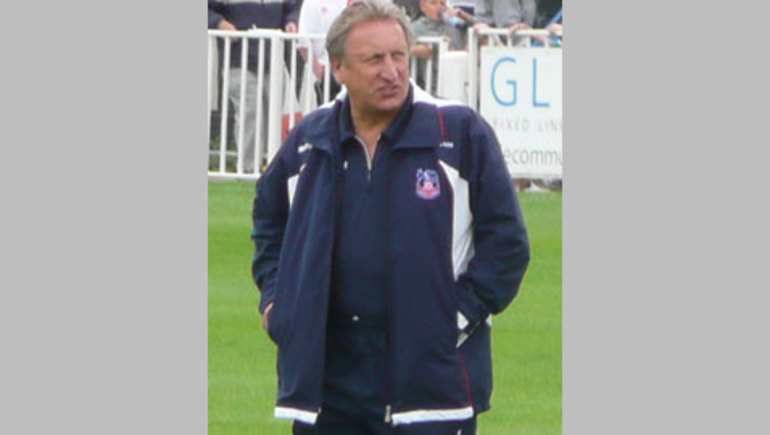 Story so far
Neil Warnock returns to Bramall Lane for the second time as Palace manager. Last time around, the Blades weren't doing particularly well with Bryan Robson in charge. This year, United certainly look capable of challenging for the Playoffs.
With both Palace and United tied on games won, lost and drawn and with almost similar goals scored & goals against, this should be either a very entertaining game or a drab affair.
Warnock not only has history with Sheffield United but he also has history with his best mate - enemy and mate again, Kevin Blackwell. Both managers will want to get one over on each other so it should be pretty entertaining for the Sky cameras.
United haven't managed a win at Bramall Lane since the first of November and Palace are the Championship's form team - you know what's going to happen now...
Team news
Centre-half Paddy McCarthy is forced to sit this match out after dislocating his shoulder against Doncaster last week.
Shefki Kuqi hobbled off injured with a calf injury in the same game and faces a late fitness test. Alan Lee, who scored the late winning goal, will replace the Finland striker in attack.
James Scowcroft has recovered from his hamstring injury and could make the bench after scoring in midweek for the reserves.
Sheffield United forward Darius Henderson misses the fixture through suspension. Midfielder Gary Speed (back), Sun Jihai (hamstring) and Nick Montgomery (calf) are all unlikely to play.
Quotes
Roy Hodgson
"You did not know what to expect last year. Everything happened so quickly and it never really sunk in. Fortunately for me, when I did leave my book had just come out and I went down and did a few signings. It was great to see so many people and this week I will be stopping and signing all my Christmas copies at some stage I am sure.
"It is a great club. When I started and when I left it was a completely different club, we built it up from nothing. It was the pits when I went there. But now the stadium is like a Premiership one now and on and off the field it is now, so it is great. And I think the fans know that I played my part in that, it is super. We were struggling when I turned up and left with a really good squad.
"But all the top teams have good squads. I think they will be disappointed that they are not in that top three with the squad that they have got because expectations were of automatic promotion. Whereas our expectations aren't as much. It would be nice to get in the play-offs but we are realists. The financial crisis has hit the crowds, the turnouts and everything else. So that is why I feel proud that we have given ten or 11 lads their debuts in the last twelve months."
Kevin Blackwell
"We are in a great position going into the Christmas games to get our home form in as good a shape as the away form, and to strike forward in the second half of the season.
"Promotion isn't won in December and the season is only halfway through. Big gaps in points throughout the division can be built up or lost between now and May, and I want our fans to really get behind us and help make it a happy Christmas for all Blades.
"My players are a very determined bunch and it is not nice for them to have lost three on the bounce at home when they have played well. Their response in bringing in four points from six in two away games since shows what they are really made of.
We are professionals and it could be anyone in the opposition dugout as far as I'm concerned. Both of us just want to win an important game of football and there are two teams fighting for the ultimate goal of promotion to the Premiership.
"Neil and I know each other well, in fact I know him inside out because I have worked for him - but he has never worked for me so I could have one or two surprises for him!
"I do things my way and he does his in his way, although our records in recent seasons have been very similar.
"We last spoke about ten days ago although we didn't discuss the fixture, and people are surprised that we didn't socialise much when we worked together anyway. But he is ten or twelve years older than me and there is a different culture between us.
"People might try and build this game up as a contest between us two, but it's not about us. Neil has already been back to the Lane with a team, but that is finished and out of the way. This is a different era - you can't look backwards.
"He has done very well and people respect him for that, but if I lose twice to Palace and win promotion it won't matter."
---
Sheffield United - league stats
| Position | Played | Won | Drawn | Lost | Points |
| --- | --- | --- | --- | --- | --- |
| 7th | 23 | 10 | 6 | 7 | 36 |
---
Sheffield United - current form
| Played | Won | Drawn | Lost | For | Against |
| --- | --- | --- | --- | --- | --- |
| 5 | 1 | 2 | 2 | 6 | 8 |
---
Our away record v Sheffield United
| Played | Won | Drawn | Lost | For | Against |
| --- | --- | --- | --- | --- | --- |
| 24 | 9 | 10 | 5 | 25 | 27 |
---
Last five results
| Date | Type | Home Team | Score | Away Team | |
| --- | --- | --- | --- | --- | --- |
| 29/12/2007 | League | Sheffield United | 0 - 1 | Crystal Palace | |
| 22/09/2007 | League | Crystal Palace | 3 - 2 | Sheffield United | |
| 30/04/2006 | League | Sheffield United | 1 - 0 | Crystal Palace | |
| 05/11/2005 | League | Crystal Palace | 2 - 3 | Sheffield United | |
| 07/02/2004 | League | Sheffield United | 0 - 3 | Crystal Palace | |
---
One to watch
James Beattie
Sheffield United's top scorer
James Beattie - 10 goals
Sheffield United's bad boy
Greg Halford - 4

0

Palace old boys
Sun Jihai
Ref watch
P Taylor.
Last meeting
Sheffield United 0-1 Palace
Saturday December 29 2007
Sheffield United: Kenny, Bardsley, Kilgallon, Lucketti, Naysmith, Gillespie (Sharp, 53), Tonge, Montgomery, Armstrong (Hendrie, 63), Hulse, Stead

Subs not used: Bromby, Bennett, Carney

Bookings: Hendrie
Palace: Speroni, Butterfield, Lawrence, Hudson, Hill, Watson, Soares (Ifill, 89), Derry, Scowcroft, Morrison (Fletcher, 73), Scannell (Hills, 78)

Subs not used: Freedman, Fonte

Goals: Scowcroft 38

Bookings: Butterfield, Derry, Soares
Prediction league
0 members have predicted for this game so far.
Make your prediction on this game
Away travel info